AFONTERMO® is a permeable, breathable, heat-reflective product with photocatalytic properties. AFONTERMO® provides unparalleled living comfort while the traditional thermal coat, non-breathable by definition, "cages" the building with a cap that unnaturally seals it.
The construction of the exterior coat using a traditional system, involves additional costs for exterior scaffolding and municipal permits, does not match with bio-architecture, as it is formed from chemically derived materials, is subject to sheet deformation and consequent alteration of the facade over time.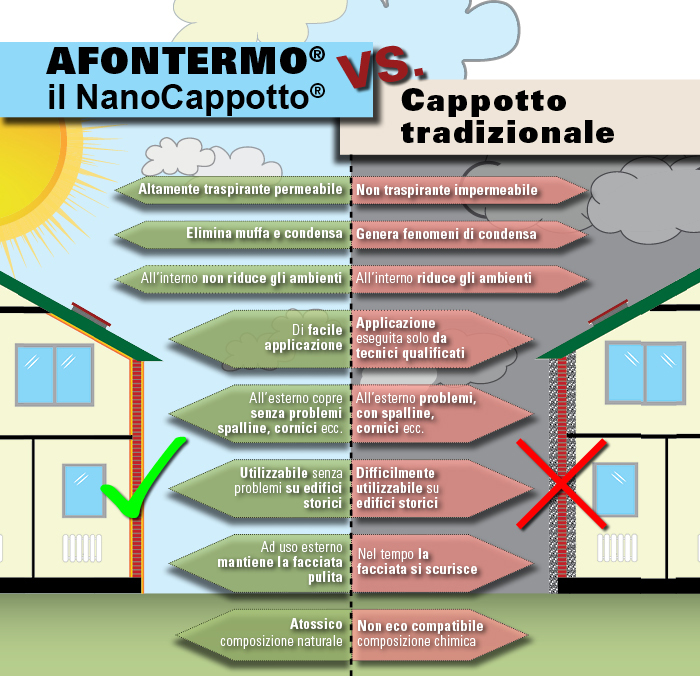 In contrast, the use of AFONTERMO® as a thermal coat enables:
not alter the breathability of the wall to which it is applied because it has a particularly low vapor permeability value (µ=9.1);
Prevent or eliminate condensation and/or mold phenomena;
Achieve considerable energy savings;
Perform an intervention in line with the requirements of bioarchitecture;
perform the work from the inside, avoiding scaffolding and achieving significant cost and time savings;
the thermal insulation that is achieved with AFONTERMO®, in a simple and economical way, restores healthiness to the walls and restores useful space to the living environment;
Having properties
photocatalytic
, the product for outdoor use is particularly suitable for the coating of facades that will keep the color unchanged over time. In fact, a chemical reaction is created on the surface of the product by sunlight, which destroys harmful pollutants and PM10, degrading them and rendering them harmless.